Activator Technique® in Edina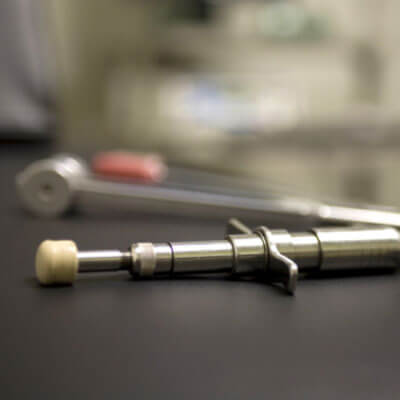 Dr. Brenda is proud to use one of the most popular low-force chiropractic techniques in the world—the Activator® handheld instrument. This method allows her to provide precise, gentle adjustments where and when you need it most.
She has been using this technique at her practice for close to 20 years. "I chose this method as it's a powerful, easy tool to handle, and easily mobile if I have to take it off-site to an appointment," said
Dr. Brenda
.
What Are Some Benefits?
Ideal for all ages
This technique is often ideal for patients of all ages and walks of life. The method is so gentle that it can be used on infants, and children love our "clicker instrument," which makes it fun for them to get adjusted.
On the other end of the spectrum, seniors can comfortably be adjusted more accurately using less energy. This method is particularly ideal for older patients with osteoporosis or osteopenia.
Not just for spinal adjustments
Another benefit of this method is that it can be used on extremities, such as shoulders, knees, wrists, and ankles.
No "cracking" involved
The Activator is also ideal for those who want to get chiropractic care but are afraid of being "cracked" or hearing a popping sound.
What to Expect
The Activator tool is a handheld spring-loaded instrument that delivers a consistent low-force, high-speed thrust. It also makes the directed energy more precise, given at the exact angle necessary to add motion to a joint best.
Because the Activator is much faster than manual adjustments, a person's body rarely tightens to resist, making adjustments both comfortable and effective.
Following your adjustment, Dr. Brenda retests to ensure the desired changes have been made. Testing afterwards helps us provide high-quality care and high levels of patient satisfaction.
Frequently Asked Questions
How long does it take to find relief from pain or symptoms using this technique?
It depends on the level of misalignment, but usually, the younger the person is, the quicker the body responds to the Activator adjustment.
How long does this type of adjustment take?
It takes Dr. Brenda the same amount of time as it would to give a manual adjustment using her hands.
Schedule Your Visit
Experience for yourself how great you can feel getting adjusted with the Activator tool. Contact our practice today to book an appointment. And be sure to check out our Google reviews!

Activator Technique® Edina MN | (612) 554-1290