Chiropractic Care
Keeping your nervous system free of interference is critical for optimal health and function because your nervous system controls everything your body does. If messages from your brain to your body can't be delivered properly because of interference, symptoms like pain, dysfunction, mobility issues and other problems arise.
When bones in your spine or extremities are out of position (called a subluxation), they can pinch the nearby nerves, disrupting the flow of communication from your brain. Chiropractors locate these areas of subluxation and correct them using targeted chiropractic adjustments to restore proper alignment and relieve the pressure on nerves. When your body is properly aligned, your nervous system can operate at a higher level, allowing your body's innate healing capabilities to create health from within.
Our Approach
Dr. Brenda
has been caring for patients since 2004, offering a variety of adjusting techniques she customizes to each person's specific needs. The primary methods she uses include:
Chiropractic BioPhysics® (CBP®)
Diversified
Extremity adjusting
Gonstead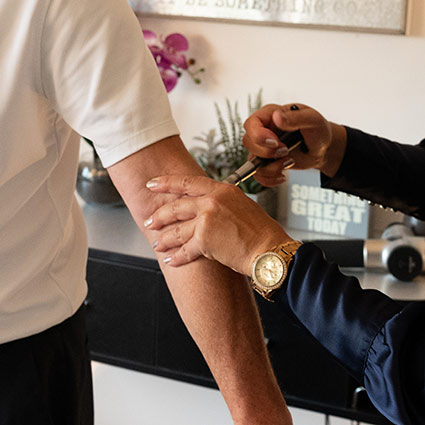 Care for All Ages and Stages
Dr. Brenda works with people of all ages regardless of physical condition or activity level. She particularly enjoys working with children, infants, young families, and the "weekend warrior" who desperately needs an adjustment on Monday!
The type of adjustments Dr. Brenda uses vary from light (for babies, children, elderly, or for those who prefer a lighter technique approach) to a stronger, heavier approach for the body builder type, sports performer, or the person who has chronic or acute pain from work or injury. Dr. Brenda has taken additional adjusting classes for extremities with the world-renowned expert in the field, Dr. Mitch Mally and has been very successful with adjusting shoulders, wrists, knees, ankles, feet, hands, and the jaw to help with TMJ symptoms.
Who We Help
Some of the common conditions we help with are
Accident Injuries
Ankle/Foot Pain
Breathing Issues
Asthma/Allergies
Carpal Tunnel/Wrist Pain
Digestive Issues
Headaches
Infertility
Leg Pain
Lower Back Pain
Migraines
Neck Pain
Osteoarthritis
Pinched Nerves
Pregnancy Pain and Discomfort
Sciatica
Scoliosis
Shoulder/Arm Pain
Skin/Acne Issues
Spinal Stenosis
Sports Injuries
Text Neck
Whiplash Injuries
Schedule Today
Contact us today to get started with care.

Chiropractic Care | (612) 554-1290